Lots of people enjoy running with their dogs. Before long, you'll be trying to find a fun run that both you and your dog can enjoy.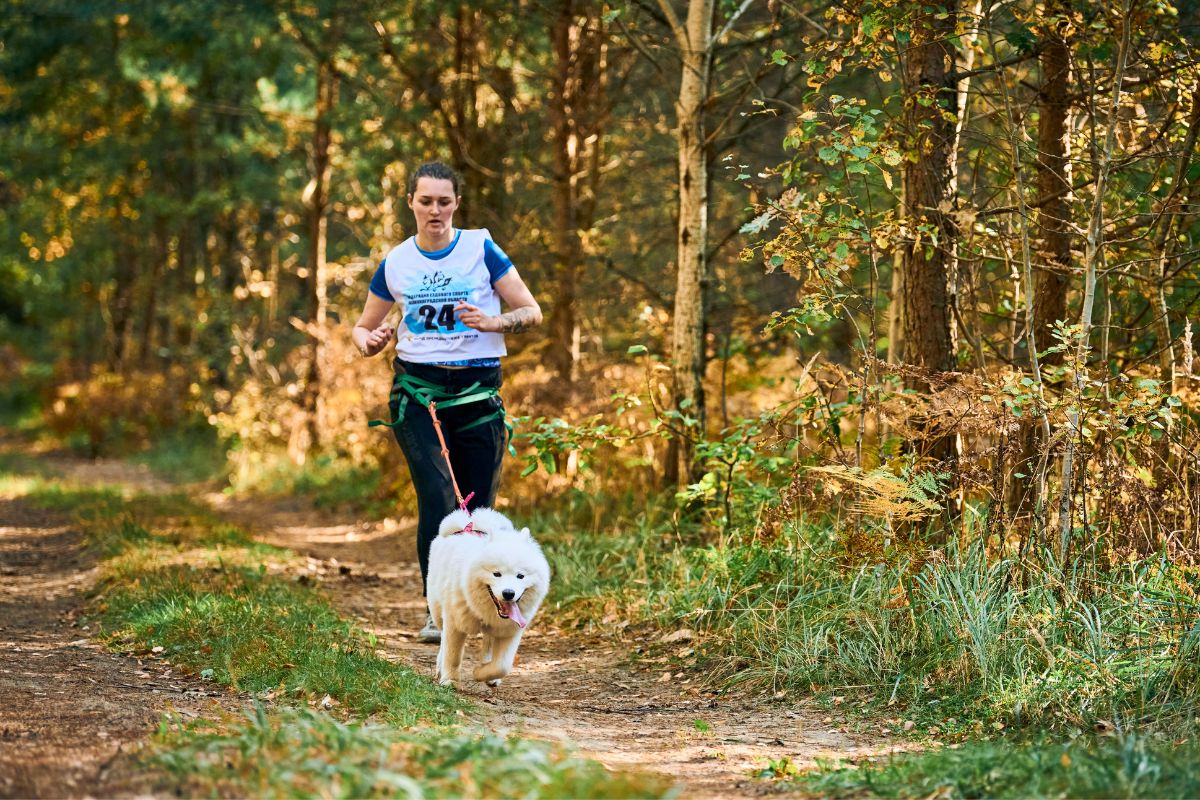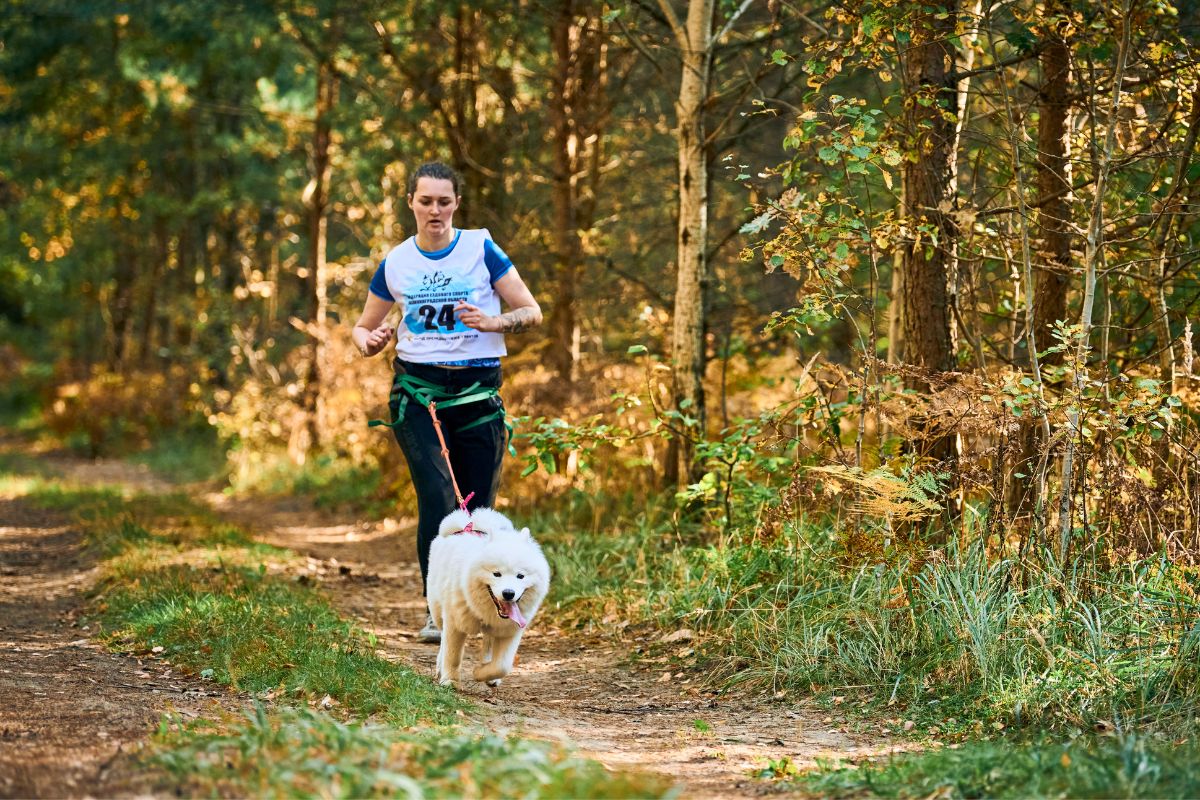 After all, your pup can help you pace yourself or give you a boost. They're man's best friend and a great motivator.
But where can you enjoy a fun run with your dog? The great news is that there are a number of them to choose from.
So let's go through ten of our favorite doggie fun runs. Once you've run, you'll be able to let your pup reap the rewards of running alongside you.
Remember that if you run with your dog, you make sure it can handle that kind of activity. You should always ensure you start running with it regularly and gradually increase the amount by 15% each week.
Just remember that your dogs should be leash trained and well-behaved, or they may struggle with the run.
Paws4Life is a 5K run (although walking is also perfectly acceptable) hosted by the Nemacolin Wooflands Pet Care Center.
Taking place in Farmington, PA, its proceeds go toward the Fayette C.A.R.T., Fayette Friends of Animals Shelter, and the Confluence Volunteer Fire Company.
Of course, if you don't want to run 5K, you can always take part in the mile-long fun run, enjoy some food, enter the raffle, and win some prizes.
After all, it's a family-friendly event where your pets are naturally welcome.
The Rocky Dog Trail Run is a 5K fun run on and around Vail Mountain in Colorado. You both start and finish at the Nature Valley Mountain Plaza, and dogs and people of all types of athletic ability are invited to compete.
Of course, when you compete, you're only allowed to bring one dog with you, and they must be on a leash.
You'll be running on all types of terrain, and you need to follow and know the course map. So, make sure you follow it, or you will be disqualified.
You don't have to worry about water either because aid stations will be available and signs posted on the map. Pooh bags will be available at the beginning of the race, so make sure you're prepared!
The last race occurred in June, so keep an eye out for when the next one takes place. And if you want to check out any other dog-friendly events, check out their website.
There have been over forty Doggie Dash & Dawdles over the years, and the next one takes place in November!
Come to New Mexico's Balloon Fiesta Park to check out the Barketplace, where you can check out the area before starting your 5K dash or mile-long dawdle.
Classed as the biggest pet party in New Mexico, there's so much to enjoy.
The 5K dash begins at 9:30 AM, with the 1-Mile Dawdle starting at 11:30 AM. Make sure you get any drinks at 1:30 PM, though, because the Barketplace and the Beer Garden will close at 2:00 PM on the day!
Kanine Social has brought the Chasing Tail 5K and Forever Vets Fun Run to Jacksonville, Florida. You can always bring your dog to run and walk or even hang around Kanine Social's private dog park while you race.
So if you have a friend coming with you, you could always leave them there while you race if you're worried about whether your pup can handle it.
But just because the race is over doesn't mean the day is. Just head to the after party, where you can enjoy live music, food trucks, bounce houses, and a lure course for your dog.
While you're there, you can even show off your finisher's medal, guaranteed to all entrants.
The Green Mountain Iron Dog is all about emulating K9 dog handler training. You'll explore various terrains, all experienced by professional handlers.
But you don't need to be a police officer to enter. Iron Dog is available for all competitors of all abilities.
But if you're not a fan of the 1.5-mile run, there are so many other competitions. You can enlist your dog in the 100-yard dash or take place in building and drug searches.
There are different levels of competition, so you can either compete in the Pro event to go against others in your age group or have a more relaxed pace in the Open bracket.
The next Furry 5K will take place in June 2023 at Generations Park in Aiken, South Carolina. You can either enter the 5K or the 1-Mile fun run.
If you're looking for a new pet, there are options to see what dogs are up for adoption. Don't forget, you can also dress up your dogs, and dog treats will be available.
If you have toys for cats or dogs or even food donations, feel free to bring them. Just remember always to keep your dogs on a leash, and enjoy your run or walk if you prefer.
Tails 'n' Trails consists of a half marathon, a 10K, a 5K, and a 1-Mile walk, which benefits four different rescue groups.
You can choose which one you want to compete in, and your entry will help the Pug Partners of Nebraska, Hands, Hearts & Paws, Muddy Paws Second Chance Rescue, and The Good Life Bulldog Rescue.
All dog breeds are welcome to take place in Tails 'n' Trails, with all dogs needing to be on a leash while you're there.
For safety reasons, retractable leashes aren't allowed. Don't forget that water is available throughout the course, and kids are also welcome to run so long as they're registered!
So, if you're interested in this family-friendly event, head over to the Chalco Hill Recreation Area in Omaha.
Doggie Dash takes place at Tom McCall Waterfront Park in downtown Portland and is funded by the Oregon Humane Society. You and your dog can walk or run the courses every year in May.
There's a 1.5-mile or a 2.5-mile route to choose from. Runners are encouraged to start with the first wave at 9:00 AM.
But that's not all there is to look forward to, because you can enjoy numerous free activities at the Pet Festival. You can find contests, play areas, raffles, and so much more.
Retractable leashes are not allowed, and please make sure your dogs are vaccinated, not in heat, and older than six months. Once you're there, you can enjoy a great day out with your pup.
The next Color Me Mutt is in October, and you can choose to enter the 5K Color Run or the 1-Mile Color Fun Run/Walk.
Located at the NASCAR SpeedPark Smoky Mountains in Sevierville, Tennessee, you can enjoy the runs and the Pet Parade that are taking place.
Everyone is categorized by age, and there will be top male and female finishers in different age categories. But if you're uncomfortable with attending the event, you can also enter the virtual run.
There are five different judging categories at the Pet Parade, including Best Fictional Character and Best Groomed, with three more categories to choose from.
And if you're worried about the colors used?
These are non-toxic, and everyone will receive a t-shirt, a packet of color, a commemorative item, a finisher medal, and an Unlimited Ride Wristband.
So, if you're interested, why not come on down?
Taking place at Columbia Gorge, feel free to head on down to the Dog Leg Half Marathon with your pup!
You'll both be chip timed and receive finisher medals, too, so you can enjoy the scenic route as you run.
The course has an aid station that runners can visit twice so that you can have water, Gatorade, bananas, and more!
Enjoy the Oregon scenery with your dog, and if you don't want to run? Then don't worry, because walking is also encouraged!
Final Thoughts
So, if you're looking for a new adventure for you and your pup, and you're looking for a new challenge, why not try one of these doggie fun runs?
All these events are catered to a canine-friendly audience; even if they don't want to run, walking is also acceptable. Make sure your dogs are well-behaved and always on a leash, and you can run to your heart's content.
Many of these runs are also sponsored by pet charities, so you know your entry fee will go to the right place.
However, before you enter, you should always ensure that you don't exceed your pup's limits. Every pet will react differently, so you should ensure they can handle the distance before signing up.
Once you and your dog are comfortable? Then you'll be able to run to your heart's content.
Latest posts by Richard Harris
(see all)