Come rain or shine, snow or sunshine, running is possible in every type of weather.
That being said, it can be difficult to know what to wear, especially if you only have a pair of shorts and a T-shirt due to only running in warmer weather.
Knowing what to wear whilst running in colder weather can be a struggle for many. Whilst it might be 40 degrees, once you start running you will see work up a sweat.
This means that that thick coat you decided to wear is now too warm.
Becoming too warm can leave you feeling exhausted quickly, stressed whilst running, dehydrated fast, and maybe even quite dizzy.
With this in mind, let's take a look at what to wear in 40 degree weather so you can run comfortably for as long as you like.
The Clothing To Think About
Once you step outside for the first time it is going to feel bitterly cold, and yes, you will see the condensation from your own breath.
That is why it is important to dress for the actual temperature whilst you are warming up.
Running Jacket
Think about wearing that thicker running jacket at this point over a thin running jacket, and then taking it off before you begin the run.
If you cannot do this because the run doesn't begin at home, then you may have to avoid this step altogether and start with the thin jacket.
When it comes to the jacket, make sure it is lightweight yet water resistant and breathable. You will find that it has no protection from the cold, so an insulation layer underneath is advisable to keep you warm.
As you begin to feel hot during the run, you then have the ability to unzip and remove layers, but do remember that these layers are not thick – so keep them light.
Shorts Or Leggings
Even when it is cold it is fine to wear shorts, in fact, some people still prefer to. Another option is sports leggings.
These help to wick any moisture away, but also keep you warm without being overbearing.
Another option is to wear shorts with compression shorts underneath for added sweat removing ability and support.
Socks And Shoes
Most running shoes, if not all, are fine to wear during the summer season, but as the temperature drops, you may find that wear you run has icy terrain and maybe even snow.
So to avoid injury, check to see if the shoes you are wearing can keep up with the different conditions without causing you to slip.
As for socks, go for something a little thicker that is still breathable. However, you can just wear what you normally do. So long as it is breathable and not made of 100% cotton, you are good to go.
Bright Colors Matter
Try to avoid dark colors like black, and instead opt for something brighter. As the days get colder, the skies become darker too.
This means that it is likely you will be running in conditions that need to be thought out about more.
If you can find reflective gear too, even better. You will want to make sure that drivers and cyclists can see you, as well as other runners and people walking.
Safety matters in any weather, but especially so when fall rolls around.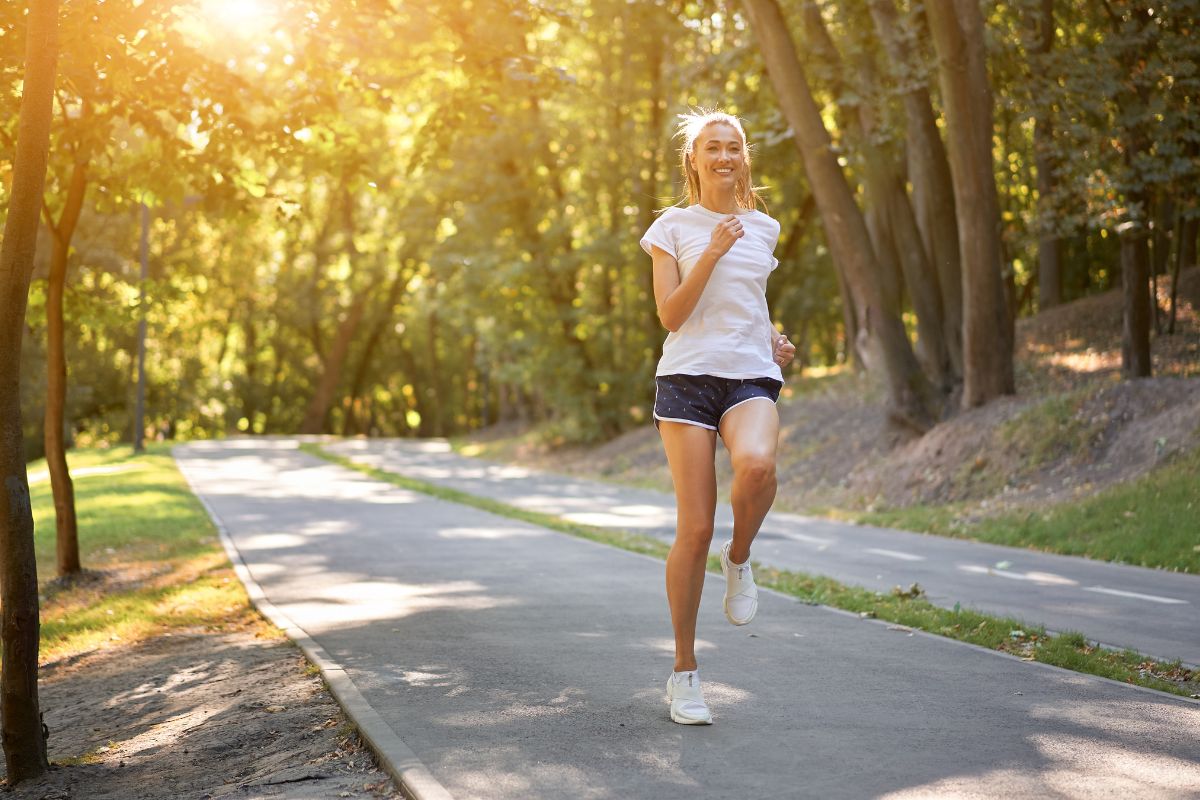 Try Not To Dress Too Much For The Temperature
It is easy to want to dress for the temperature, especially at that 5am run in the morning.
However, doing so will cause you to overheat whilst running. Once you step outside you should feel a little cold, not freezing. 
It may take a few runs to really understand what you need on a personal level, so as long as you have some running gear to try out, give it a go.
Accessories To Take With You
Just like during the summer, there are a few things to think about when it comes to accessories. In fact, we did an article on what to wear running that might help when it comes to warmer weather.
Gloves And A Snood
When the temperatures are cold, you will feel it even more as you run. For this reason, something like a snood or a light scarf will do wonders at keeping the bitterly cold wind off your face.
Gloves are another good option. You will feel that your fingers become very cold which can make them go numb. To avoid this, wear appropriate gloves. Perhaps leave those fancy mittens at home!
A Hat
Whilst a baseball cap is advisable in the summer, a beanie is a great choice for the winter. It will help to keep you warm, and you can remove it and put it in a pocket if you become too hot to wear it.
Also, a viser (and that baseball cap) is still a good idea to keep the winter sun out of your eyes and off your skin.
Sun Lotion
Whilst it may not be summer, the UV rays are still an issue so wearing sun lotion matters. So, make adding it to your face, ears and the neck area (and legs if they are out) a part of your pre-running routine.
Your body will thank you later on in life when you are sun damaged and wrinkle free. Hooray!
Final Thoughts
If you love running, or are training for a competition, then no matter what the weather is, you will want to get out there and run.
Because of that, you will need to know what to wear when it comes to colder weather.
In the summer it is easy to put on those shorts, a T-shirt and some sunblock and go, but in colder weather you do not want to wear so much that you become too hot.
However, if it seems way too cold to run, skip it, you can always go for a run tomorrow!
Latest posts by Richard Harris
(see all)